Princess Connect! Re:Dive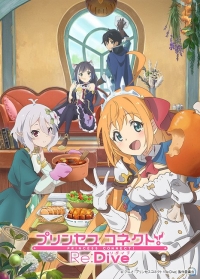 | | |
| --- | --- |
| Title | Princess Connect! Re:Dive (プリンセスコネクト! Re:Dive) |
| Title | Princess Connect! Re:Dive |
| Title | Princess Connect! Re:Dive |
| Typ | Anime Series |
| Episodes | 13/13 |
| Year | 2020 |
| Runtime | ~24 Minutes |
| Status | |
| Genre | |
In »
Princess Connect! Re:Dive
« erwacht
Yuki
eines Tages in der wunderschönen Welt mit dem Namen
Astraea
. Doch Yuki kommt seine Umgebung weder bekannt vor noch hat er irgendeine Erinnerung an seine Vergangenheit. Zum Glück führt ihn das Schicksal rasch mit drei Mitstreiterinnen zusammen, die gemeinsam eine Gilde mit dem Titel
Feinschmeckergilde
gründen. Gemeinsam mit der ihm treu ergebenen
Kokkoro
, der dauerhungrigen Schwertkämpferin
Pecorine
und der Nekomimi-Magierin
Karyl
begibt Yuki sich auf ein spannendes Abenteuer!
Source: aniSearch
Release Group
Tanuki
Resolution*
1280x720
Typ*
MKV
Filesize*
~700 MB
Language
Subtitles
Release Notes
WebRip von Crunchyroll
*Please note that streamhoster perform an encode and the displayed information will only provide information about the source used on which the streams are based on, but the actual quality may differ considerably. Use our downloads instead to get the unchanged files.

No matching entries available